Allotments - The parish council have vacant allotments for rent at Golberdon. If you are interested in a plot please contact the parish clerk.
Trough at Lambert's Well
As many of you have noticed, the granite trough at Lambert's Well (see photo below) in Golberdon was removed during the recent roadworks. We have now been informed by Cornwall Highways that is not possible to install this feature back where it previously was. The Parish Council will look at alternative venues to site the trough and we welcome any suggestions from the community.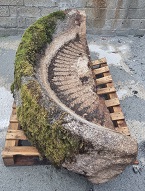 Winter Road Salt 
There are no winter grit bins in the Parish, but the Parish Council do hold a supply of road salt for anyone that needs it. This is available for use on the public highway and not for private use. Please contact the parish clerk or one of the Councillors should you wish to spread some salt in bad weather conditions and delivery or collection can be arranged.
Footpaths
The Parish Council are looking for someone to take on seasonal work to keep the footpaths clear of overgrown vegetation. Should anyone be interested please contact the parish clerk for further details. On top of this, we will be looking for a group of volunteers to assist the council in making the necessary and improvements to the footpaths around the Parish. Any volunteers should contact Councillor Budd to register their interest.
Community Benefit Fund
The Community Benefit Fund is a sum of money that South Hill Parish receives from the Solar Farm development  at Trefinnick Solar Farm. The Council are inviting any residents of the Parish to contact the Parish Council either by email or coming to one of the monthly meetings and put forward their ideas of how to put these funds to use. There are various rules regarding how the funds can be spent:
to use the Community Benefit Payment for charitable, educational, environmental, amenity or other appropriate purposes within the areas of the Community and, wherever possible, to apply the Community Benefit Payment towards the promotion of sustainable energy and uses
not to use the Community Benefit Payment for political, religious, entertainment or hospitality purposes, or for any purpose adverse to the Operator's interest in the scheme
The final decision on how these funds will be allocated lies with the Parish Council.
Parish Council
The Parish Council welcome any comments or suggestions from members of the local community. All Councillor information and contact details can be seen on the Councillors page. Meetings are held monthly on the third Tuesday every month except August. There is a 30 minute public session at the beginning of every meeting to allow parishioners to share their views and ask any questions.. Please see the Meetings tab for the agenda and previous meeting minutes.